Our company, Anant Creation, is the best choice if customers are looking for the best range of apparels. Since the year 2022, when we first established our business, we have expanded to become a reputable manufacturer and supplier of the finest selection of apparels. By upholding the highest standards of quality across our entire product line, which includes Light Blue Georgette Floral Print Long Kurti, Dark Gray Tunic, Ladies Maroon Rayon Long Top, Gray Round Neck A-line Kurti, Ladies Green Rayon Long Top, etc., we have been able to maintain steady business growth. For the development of our products, only the best raw materials from well-known market vendors are sourced. In addition, we ensure quick and secure fulfilment of all customer orders.
Customer Satisfaction
We consistently prioritise the satisfaction of our cherished customers and will do whatever it takes to make sure of it. From the placement of orders to their proper fulfilment, we ensure the complete satisfaction of customers. The following are some essential elements of our measures of customer satisfaction:
We uphold the utmost integrity and politeness in all our business dealings with clients.
We ensure that every order is carefully packaged and promptly delivered to the customers.
We thoroughly comprehend the customers needs and provide them with the best solutions.
We ensure that the price range of our products is kept fair and in the best interests of customers.
We put a lot of effort into developing enduring business relationships with each client.
Research and Development
Any manufacturing company, particularly the one dealing with apparels must conduct proper research and development in order to keep its product range updated with the newest trends. As a result of our ongoing research and analysis, we frequently come up with unique ideas that enable us to broaden our product portfolio. As per our research, we develop a unique range of apparels which includes Ladies Maroon Rayon Long Top, Light Blue Georgette Floral Print Long Kurti, Ladies Green Rayon Long Top, Gray Round Neck A-line Kurti, Dark Gray Tunic, and many more. In addition to product development, we conduct thorough research to learn more about our competitors, potential customers of the market, the price of comparable goods, and other factors.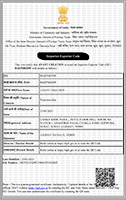 Read More